Akar logistics owes a lot of its' success to the fact that we are keen to adopt a flexible approach to our product offering to ensure that the customer gets what he requires.
The Power Solutions Team consists of specialist Mechanical, Electrical Design Engineers, Support, Sales and Project Engineers. They are highly qualified, experienced in providing solutions to often complex power generation requirements for which little or no precedence exists.
Power Solutions has a very impressive Client List in a wide variety of Industries such as Telecoms, Rental, Retail, Health Care, Leisure, Agriculture, Manufacturing, Oil and Gas.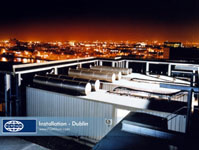 Power Solutions offers an extensive range of generator ancillaries including
Control and Synchronisation Systems
Weatherproof and Acoustic Enclosures
LV and MV Switchgear
Exhaust and Silencer Systems
Plantroom Acoustic Treatment
Fuel Systems
Cooling Systems
Factory and On-site Testing, Installation and Commissioning for single or multiple set applications up to an individual set rating of 2MW.
If you have quite detailed power requirements and would like a quotation from our solutions team, contact us.