Ballistic Protection Products
Hard Armour Panel
We offer Hard Armor Dyneema panels in flat, single-curve and multi-curve configurations with multi HIT capabilities. Panels are upgradeable till NIJ Level IV.

Salient Features:
"Maximum V50 (880 m/s in AK47 MSC) with least possible weights" – says DSM.
Among world's best panels.
Flat, single-curved and multicurved configurations.
Multi HIT capabilities.
Shot to shot 30mm.
Edge distance 30mm.
More than 10 shots per panel 250mm x 300mm.
'DSM' trained & supported manufacturing.
Vehicular protection body panel.
Available in any size and shape, in shortest time.
Tailored shapes and protection possible with "in-house" CADCAM mould manufacturing.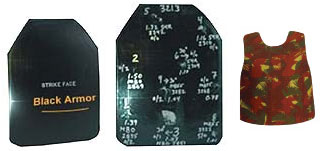 Sizes available:
Flat and single-curved Dyneema panels 250 x 300mm (10" x 12").
Multi-curved Dyneema panels 250mm x 300mm (10" x 12").
Full-body contoured Dyneema panels 410 x 510 mm (16" x 20").
Vehicle - upto .75sq. meter for NIJ level III and upto 1.5 sq. meter for NIJ level IIIA
Specifications [Full body (upper torso) protection panel]:
The only light-weight which takes more than 20 shots of AK-47 and SLR on a single panel.
Weighs about 3.50 kg per panel.
The protection area per panel is more then 310 sq.inch (2000.00 sq.cm.), which is more then 2.25 times larger than the area of a panel 10" x 12" (120.00 sq.inch).
Can be used in bullet-proof jackets without additional support of soft armor panel, yet offering protection against AK-47 & SLR with less then 44mm trauma.
Available for front, back, sides, collar and groin pads with snug-fit contours.